SCENE
Application Examples
example
ECOPET® Application Examples
For 25 years since its inception, ECOPET® has been used in a variety of fields ranging from general merchandise, such as clothing, to interior and industrial materials, such as automobile interior materials.
scene

03
Stations and Trains
Because of its versatility in fiber form and high potential as a functional material, ECOPET® has a wide variety of applications.
Application example: Train seats and uniforms for station attendants
scene

04
Automobiles
While catering to different needs, including clothing, and addressing diverse issues, we also actively explore new horizons.
Application example: Automobiles (interior materials)
scene

07
Housing
The use of ECOPET® in household commodities has been increasing because of growing environmental awareness.
Application example: Garbage drain bags for kitchen sinks, futons, pillows, and hand wipes
scene

08
Parks
We created high sweat-absorbing, quick-drying textiles by making the surface area of the fibers larger. They also offer high durability and abrasion resistance, making them the textiles best suited for sportswear.
Application example: Sportswear and shopping bags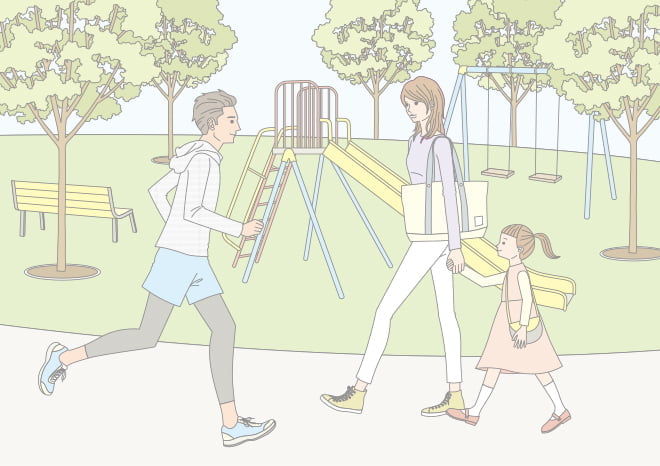 scene

01
Schools
Quick-drying, durable gym clothes and synthetic leather randsels (Japanese schoolbags) are made from ECOPET®.
Application example: Gym clothes, randsels, curtains, and shoes
scene

02
Factories
ECOPET® is a material best suited for uniforms since sweat-absorption, quick-drying, lightweight, heat-shielding, thermal insulation, and dry touch functionalities can be added to it.
Application example: Workwear
scene

05
Hospitals
Our product portfolio also includes smooth, wrinkle-resistant textiles. We have also created functional materials using antistatic yarn that does not attract lint or dust.
Application example: Medical clothing
scene

06
Offices
The building material is more than adequate since it is light and can be made into sound-absorbing fibers. There are also fire-resistant products designed to minimize damage from disasters.
Application example: Suits, ceiling material, name cards, and disaster blankets
scene

09
Stores
ECOPET® is often used in outdoor products that require weather and water resistance as well as colorfast fabrics.
Application example: Banners, tablecloths, and disaster blankets
Raw materials
We offer a variety of raw materials products that cater to a variety of different needs and uses. Through our 25 years of efforts, the quality of our raw materials made from recycled materials has become as good as that of petroleum-derived products. We have also created highly functional fibers by leveraging special shapes and composite technology. While giving due consideration to the future of the Earth and the needs of our customers, we will continue to pursue the potential of materials and provide our products in a stable manner.
Textiles
The texture and functions required of clothing vary by its purpose, such as fashionable clothes, sportswear, and uniforms. In an effort to meet these diverse needs, we have created an array of textiles by combining various threads and spun yarns with our long-accumulated textile development technology.
Products
We deliver many products ranging from daily goods, such as clothes, interior materials, bedding, and filters, to industrial materials such as decorative building materials. We will continue to pursue the possibilities of ECOPET® to protect both our daily lives and the environment.